HoodGoodGoodie - Artist/Writer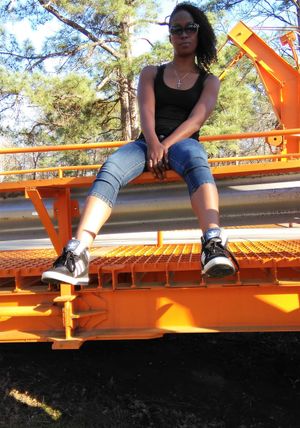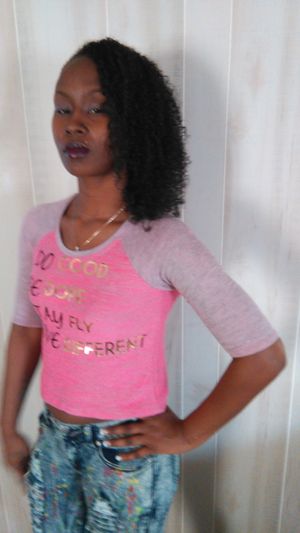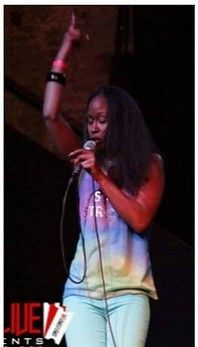 HoodGoodGoodie music is a true story of living life and going through the motions. Although you may not find many party songs her music tends to stay grounded and fixed on the reality of living life, learning life, and dealing with life. You find Raunchy Love Songs and songs that speak about this spiritual battlefield that we all are dealing with, rather recognized or not.
  "G.O.D. ON MEH" & "Shit On The DEVIL" 
Raw and Un-Cut with no intention of being rude
HoodGoodGoodie - started on the scene at the age of thirteen. Growing up in the streets of East Palo Alto, California she learned quickly that you have to have tough skin to survive. Survivor of a broken home due to drugs and domestic violence HoodGood looked to rappers such as E-40, Nas, Foxy Brown, Lauryn Hill, Tupac, Scarface, and the Luniz for a peace of mind. Now in this day in age she looks to her Lord and Saviour Jesus Christ for peace of mind, not giving a damn at the stereotypes or characteristics that anyone thinks she should be as a "Female Rapper". Back in the early 90's HoodGood started out rapping to the sounds of her brother beatboxing. She and her grade school crew would get out of school, have sleepovers, and write raps. They had made up their own formula to rhyming that sparked the interest for HoodGood that never vanished. She participated in a couple of live shows with her high-school best-friend "MarieKaine" and was sold that she loved being on stage performing. Not really focused or visualizing the bigger picture at the time HoodGood went through many trials and tribulations that eventually lead her to move to Las Vegas, Nevada Dec 1999 for a new start. She continued to use music as an outlet to relieve stress, still not focused on her gift. It was in 2002 that she met a friend through a mutual friend who also rapped. The young lady invited HoodGood to a studio session one day along with another young lady who rapped. They came up with a track that day that was passed along to and through several individuals. As an outcome in 2004-2005, the 3 young ladies grouped up to form the group called "HEAT". They did several performances for an opportunity to be signed to Sony Records but it turns out the people "executives" who showed up to these different events were actually ex-employees of the label who really didn't have the connections to move forward. The group fell apart quickly and had its Destiny's Child moment before anything Great could be accomplished. Considered the cream of the crop, specializing in being an artist that performs, writes, and is the dedicated creative mind behind herself, HoodGoodGoodie Refuses to Not BE Heard-  she will continue to strive to the top!!! Co-Founder of HoodGoodieGirl MUSIC "It's on"
In A League of Her Own.

Since HoodGood has ventured into starting her own Label and doing things "HER WAY", she has released Album Entitled "In A League Of Her Own" early Feb. 09 and three mix-tapes entitled "I'm Good" released 2009, "I Am Mrs.GOOD" released 2009, & "Temperamental" released 2010 uploaded @ Datpiff.com. In May 2011 her song "All About Me" was accepted and added to UnderWorldMixRaido.com rotation. On Nov 3, 2011, her song "So Hood Good" Top the Charts at #7 for the Top 10 Most Requested, remained at #8 for the week. This same single as of 6/02/2012 Tops the Charts at #4 Most Requested. July of 2011 selected through Sonicbids by Earth Entertainment, HoodGoodGoodie received the opportunity to perform live at Club Curtain for the Dallas HipHop Bash Preview Show Event for the Dallas Music Festival. She performed live August 3, 2011, along with artist such as Anonymous Culture, Union Ent, Flawless Ent, and BlackBoss Ent, and many other great Independent Artist. Also, in July of 2011 two of her songs single "So Hood Good" and song "Not for Sale" from the album "In A League of Her Own" were selected to be featured on "HipHop Sounds of The Underground" Cd due to be released Dec 2011 hosted by DD Hip Hop Label. Considered and selected by NewHotMusic.com Sept 2011 HoodGoodGoodie was offered the opportunity to do Meet-N-Greet Events with fans and store customers at FYE, Sam Goody & Warehouse Stores. In Oct 2011 MadeLoud.com featured HoodGoodGoodie in the "Editors Pick Article" by Adam Schragin entitled "Ladies Who Rap" featured as 1 out of 6 New Females Rappers being introduced to the music industry. That month HoodGoodie also received notification of her single "Hurt So bad' being added to online internet radio station Rukus Radio & GRM780 Radio. Nov 2011 Madeloud.com again featured HoodGood, this time in an article entitled "Covers Galore".
Obama Drama single was released 2012; 2014 HoodGoodGoodie started participating in the Coast 2 Coast Live Events and won 3rd place for the Houston Live Edition. My Thang Thang single released 2015; Keep A Go Get'em single released 2017; Gettin This Money single released 2017 are the many singles released from HGG Music.
~ Things are moving slow however this dynamic fierce lady will not let the game fade her off the scene. So, stay tuned – 2021 ALL New Projects Soon to be Released *